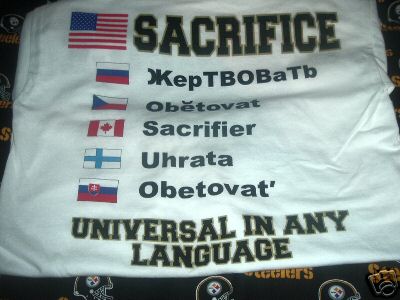 The hockey players of the Pittsburgh Penguins of the NHL wear this t-shirt under their uniforms in the 2008 season.
WEAR WHAT THE PENGUINS ARE WEARING UNDER THIER UNIFORMS
LOCKER ROOM SACRIFICE T SHIRTS !!
FOR THE HARD CORE PENGUINS FANS
FREE CROSBY KEYCHAIN LANYARD WITH B.I.N. PURCHASE IT HAS A RETAIL VALUE OF $7.95 WOW !!!
This is a true rare item to find.On the back of the t shirt it has sacrifice in the six different native tongues of the Pittsburgh Penguins current roster.They are English,Russian,French,FINNISH and Czech/Slovak. The penguins are making a stanley cup run and here is your chance to wear what the pros are wearing. Thanks for looking and happy bidding.
Ad blocker interference detected!
Wikia is a free-to-use site that makes money from advertising. We have a modified experience for viewers using ad blockers

Wikia is not accessible if you've made further modifications. Remove the custom ad blocker rule(s) and the page will load as expected.